Awakening Edit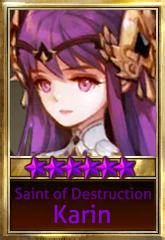 Awakening in KR Edit
We don't speak Korean.Agreed
Awakening Costs Edit
 

Costs to Awaken Heroes

Hero Type
Gold

Normal
300,000
Special
300,000

Costs to Awaken Jewels

Jewel Type
Gold
Boss / 7K
500,000
Four Lord
800,000
Costs for awakening units
The total gold cost for the upgrade is 300,000 gold, no matter the hero's rarity; however, heroes are required to be level 30 with +5 enhancements to be eligible to awaken. Also only a select amount of units can be awakened,you can check at any time by looking at the codex to see which units have their awakened form or not.
Once an awakened hero reaches to 40, they can be enhanced to +10, but at any time mined by looking at the codex to see which units have their awakened form or not. You can still transcend awakened units through normal means before they were awakened, meaning Finas and non-awakened clone.
Awakening Jewels
Jewels are the first item to use Awakening Shards. "Jewel Awakening" is unlocked once a Jewel has been powered up to +5. The cost to awaken jewels are as follows:
Unlike Hero Awakening, Jewels require 50 Awakening Shards no matter the rarity. Additional upgrade materials include 2x +5 jewels & gold.
The total gold cost for Jewel awakening depends on the Jewels Rarity. Seven Knight & World Boss Jewels require 500,000 gold, and Four Lord / Four Lord of Old Jewels require 800,000 Gold.
Methods of obtaining shards Edit
You can obtain shards by the first completion of daily dungeons per day. As you continue to go to higher difficulties, you can gain up to a maximum of 20 fragments per day. Other methods in getting fragments includes the topaz shop which supplies 100 fragments for 100 topazes. This purchase has a limit; however, you are only allowed to purchase up to 3 times with a limit of 300 fragments a month. The counter resets in the first day of the month.
Exclusive Items Guide
What are Exclusive Items?
Exclusive Item is a hero power up for awakened heroes level 46 or higher. Each awakened hero has an Exclusive Item & each Exclusive Item has 3 stages. Each stage provides a buff to that hero.
Stage 1 is unlocked at level 46, Stage 2 at level 48 and Stage 3 at level 50. Stages 1 and 2 give a buff to the heroes stats (ATK, Counter, Block, etc etc). Stage 3 adds an additional effect to one of the heroes skills. The total amount of shadow ores required to fully unlock an exclusive item is 300. The max # of shadow ores you can obtain monthly is 1,010, This means you can fully unlock 3 heroes exclusive items each month.
How do you unlock exclusive items?
Exclusive Items can be unlocked with Shadow Ores. Each stage of an exclusive Items requires a certain # of Shadow Ores & gold to unlock. Shadow Ores can be obtained threw the Daily Dungeon, Topaz Shop & Smart shop.
Exclusive Item - Shadow Ore Cost
Edit
Costs to unlock Exclusive Items

Stage

Gold
Stage 1 (lvl 40)
500,000
Stage 2 (lvl 42)
1,000,000
Stage 3 (lvl 44)
1,500,000
Total :
3,000,000
Awakenings
Edit
Seven Knights
  

Dark Knights
 

Four Lords
 

Night Crow
 

Revolutionaries / Pentagon
 

Hidden Masters
 

 Guild Alliance
  

Fragments of Destruction
 


Dark Magic Research Tower
 

White Wolf
 


Crusaders
 






???
 

Terra
  

Shadow Clan
  

Current Awakenings (awakening hero page here) Edit
Community content is available under
CC-BY-SA
unless otherwise noted.