Lore
"A man with an unknown past, Kyle was known for his successful kill on the man called the Reaper. Due to this, he was known as the most skilled assassin."
Title - Four Lord
"His only failed mission was said to be against Teo, where he fought his target for 3 days straight. He scarred Teo's face during the battle, but failed to kill him."
Title - Night Stalker
"After a long period of silence, he returned to the world after taking a job from a mysterious being to hunt the Night Crow."
Little is known about kyle's past before he became a four lord. He rose to fame after killing a man named "Reaper", who was the previous leader of the shadow clan & father of
Ballista
&
Kyrielle
. Because of this, Kyle is pursued by
Ballista
, who is seeking vengeance for the murder of her Father. His origins are a mystery.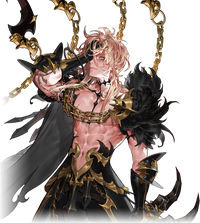 His only unsuccessful mission was against Teo, another member of the four lords. It's unknown who hired Kyle to kill Teo. The unsuccessful attempt at Teo's life left Kyle with scar across his face. The battle ended in a draw and lasted 3 days and 3 nights. Due to his strength, he was formerly a member of the four lords.
Awakening
attempted to assassinate Taka of the Night Crow but lost the fight. Bai Jiao appeared and infused him with the Power of Destruction, but Kyle ended up going berserk due to the rage he harbored for the Night Crow. He awakens when Bai Jiao inflicts some power of destruction into him and fights Taka. He wants to destroy the Night Crows and finally defeat Teo.
Costumes
Edit
Community content is available under
CC-BY-SA
unless otherwise noted.