*Page In Progress
Protective Maiden Da Qiao

Stats

HP

2771

6726

Fragment Search Party

M.ATK

1102

3288

DEF

570

1671

SPD

33

Da Qiao absorbed th Power of Destruction to save her father, who ran away

from Dark Magic Research Tower. Later, she fallowed Bi Dam to the tower for her father's safety

Skill

CD

Description

Princess of the Battlefield

Passive

Becomes

Agile

.

For 1 hit, the damage received will not exceed 20% of max HP.

All allies become immune to Position of Formation Changes. Decreases DEF of all enemies by 60%.

Dance of Butterflies.png

A. Skill

Inflicts 80% Magic Damage on all enemies 3 times. Piercing will take effect. Paralyzes a target for 2 turns at a certain rate. Becomes immune to all damage 4 times.

Spring Up

82'

Inflicts 100% Magic Damage on the 3 enemies with the highest Physical Attack or Magic Attack 3 times. Piercing will take effect. Critical Hit will be applied.

Lucid Dream

100'

Puts all enemies to

Sleep

for 2 turns at a certain rate. Decreases the enemy's buff duration by 2 turns. Decreases the targets' charged Awakening gauge by a fixed amount. Decreases any hit shield buffs by 2 hits.
Skill Info

Sleep

Sleeping targets can't do anything. Sleep effect will be removed when receiving damage.

Attacks received while sleeping will ignore Defense.

Agile

When attacked multiple times takes damage 1 time and the rest will miss.
Exclusive Item
Stage 1
Crit Rate +30%
Stage 2
Lethal Rate +30%
Stage 3
Dance of Butterflies

Decreases required awakening gauge.
Affinity Connections
Da Qiao
I can take Bidam, right?

Jupy
-->
...What?
<--

Da Qiao
I'll cheer you on!

Snipper
-->
I'll cheer you on, too!
<--
In game Quotes: "Ill fight to protect!"
"Ill send you to the butterflies dream!"
"Soar High, argh!"
"Dance of Butterflies, dispel the darkness."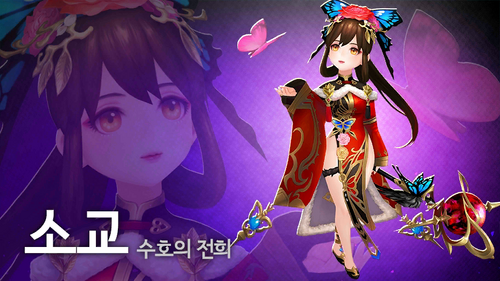 Battle Maiden's Return Da Qiao
Costumes
Edit
+100

+20

+10

+100

+20

+10

+100

+20

+10

+100

+20

+10
Community content is available under
CC-BY-SA
unless otherwise noted.