Lore
A popular and powerful knight, known for his great determination and spirit to bring justice to the kingdom of Terra. This was most likely before Elysia's coronation. He was also a former travelling companion of Teo. One day, Sylvester learned interesting information in the Terra's library about a power of destruction. He began to study and research the power of destruction. He sought out to tried to collect the power of destruction and purge it to free the world from danger. He collected the pieces & attempted to purge the power of destruction but failed terribly. The power started to burst and spread around the world.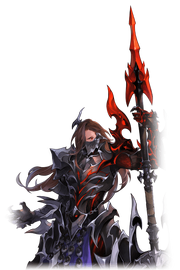 Awakening & Season 2
From that day ,Sylvester went on to live a life full of guilt and regret. He eventually meets Mercure. Dellons encourages Mercure to experiment on Sylvester, since he was studying magic. Platin hears this and is completely against the experiment. The powerful & popular knight becomes Mercure's lab rat and loses his memory. Even after losing his memory, Sylvester still remains a loyal knight and tries to stop all crime.
Titles & Ranks
Costumes
Six-Pointed Crystal

+200

+40

+<20




Smileless Steward

+200

+40

+<20
Community content is available under
CC-BY-SA
unless otherwise noted.